Staff
The Bensalem Kollel and Outreach Center is privileged to have an amazing, warm, and knowledgeable staff of dynamic men and women who are dedicated to serve our community.
Their presence and warmth illuminates the lives of all who they come into contact with.
Rabbi Moshe & Malky
Travitsky
Born in Harrisburg, PA, Rabbi Travitsky attended Mirrer Yeshiva in Brooklyn, NY and Yeshivas Mir in Jerusalem. He continued his studies at Beth Medrash Govoha in Lakewood, NJ, where he received his Rabbinical Ordination (Semicha).

In 1987 he married his wife Malky (nee Fendel) from Forest Hills, NY. Malky studied at Bais Yaakov Seminary in Jerusalem and holds a BS in Computer Science from Queens College. In 1996 Rabbi Travitsky assumed the position as Rabbi of Kehillas Bnai Shalom in Bensalem. Shortly thereafter he embarked upon a campaign to build the Bucks County Mikvah and founded the Bensalem Community Kollel and the Bensalem Jewish Outreach Center.

Malky runs the busy Travitsky household and the BJOC office. She also directs all the women's Outreach activity in the community.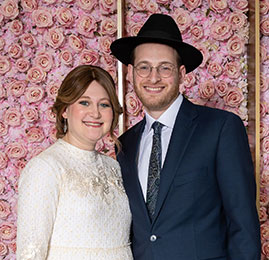 Rabbi Yitzchok & Shulamis
Berlin
Yitzchak grew up in Scranton PA, where he attended the Scranton Hebrew Day School.  He continued to learn at the local Yeshiva Beth Moshe for 8 years, and then under Rabbi Tzvi Kaplan in Yerushalayim. Upon his return to the US, he joined BMG in Lakewood. That summer he married Shulamis Rothstein. Shulamis of Brooklyn, NY, is trained in graphics design. After learning in Bais Medrash Govoha for four and half years, the Berlins moved to Bensalem, with Yitzchak joining the Kollel. Shulamis started a new business in Bensalem called Dippit where she makes and sells delicious fresh dips weekly. She is also the director of the new girls summer sleepaway camp, Menucha.

Yitzchok and Shulamis have four adorable children, Dovid, Leeba Shaindel,Yisrael and Shmuel Chaim. The Berlins are excited with their move back to Pennsylvania and enjoy being very involved in the Bensalem community.  They have chosen to make Kiruv and Jewish education their life's mission.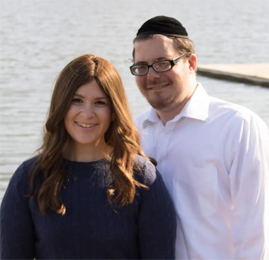 Rabbi Ephraim & KB
Beshansky
ephraim

267-966-5767
email
Ephraim was raised in Teaneck, NJ. After finishing Mesivta in the summer of 2002, his family made Aliya to Israel where they currently reside, in HarNof. There Ephraim studied in Yeshivas Toras Simcha and in Yeshivas Mir.

In 2007, Ephraim married his wife, Kayla Bracha aka KB (nee Katz), who is originally from Philadelphia, PA.

They lived in Israel for three years where Ephraim continued to learn in Yeshivas Mir and in Ohr Sameach in the OhrLagolah Program.

They moved to Bensalem in 2010 and are very happy to be a part of such a wonderful community. After learning in the Bensalem Kollel, Ephraim now works at SwartzCulleton law firm. KB teaches in Politz Hebrew Academy and gives many classes for Bensalem's Women's Café Connect program and many other outreach events. They have four beautiful children, Devora Ita, Eliyahu, Naama and Yael . Ephraim and KB bought a home in Bensalem and look forward to being involved in the community for many years to come.
Rabbi Shlomo & Pnina
Kohn
shlomo

215-756-4830
email
Shlomo grew up in Lakewood, NJ. He attended Yeshiva Shaarei Tevunah in Yerushalayim for three years where he formed a close relationship with his Rosh Yeshiva, R' Elya Levin shlita. When he returned to the states, he joined Yeshiva Derech Chaim in Brooklyn, NY where he continued learning. In 2013, Shlomo married Pnina Globman from Philadelphia. Pnina is an alumnus of BYA seminary of Yerushalayim and completed a Masters degree in Occupational Therapy from Touro College, NY.

In April 2017, Shlomo and Pnina moved to Bensalem to join the Kollel and be more involved in Jewish Outreach. In June 2020, Shlomo assumed the position of Outreach Director. In his capacity, he helps run the Bucks County Hebrew School and the different programs at the Outreach Center. Shlomo enjoys meeting new people, playing guitar, and spending time with family. Pnina enjoys learning with other women and being involved in the Café Connect Women Events.

Shlomo and Pnina have five beautiful children K"AH and feel privileged to be part of such a warm community.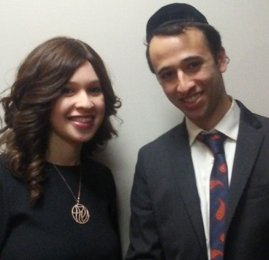 Rabbi Daniel Osher & Batsheva
Miller
daniel Osher

215-688-3928
email
Daniel Osher was born and raised in Pittsburgh, Pennsylvania. After attending Yeshiva in Baltimore and Cleveland, he continued on to Eretz Yisroel to learn in Yeshivas Kodshim.

He returned to the states and married Batsheva (nee Rosenberg) who grew up in Northeast Philadelphia. They lived in Israel for two years where Daniel Osher learned in Mir Yeshiva. In the summer of 2019 the Millers moved to Bensalem to join the growing kollel and community.

Daniel Osher enjoys stimulating discussions and meeting new people, as well as cooking for Shabbos. He is our Hebrew school teacher, beloved by his students and the whole community. Batsheva works full time as an accountant and enjoys spending time with family and welcoming guests into their home. Together with their adorable daughters Esti and Yehudis, the Millers have become an integral and beloved part of the Bensalem community.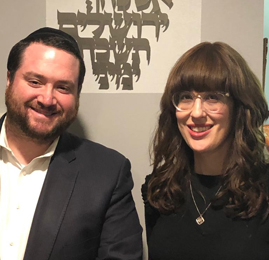 Rabbi Eli & Shevy
Rand
eli

732-447-8571
email
Eli was born and raised in Toronto, ON. He studied in Yeshivas Ner Yisroel of Toronto, in Mesivta of Belmar, Lakewood East in Israel, and then BMG. In 2007 he married his wife, Shevy (nee Weinreich) who grew up in Boro Park, NY. She graduated from Adelphi University with a Master's of Sciencein Speech Language Pathology.

They both share a passion for outreach and involvement with Jews of all backgrounds. After living in Lakewood for a few years they moved to Bensalem where Eli joined the Bensalem Kollel.

Shortly thereafter, Eli became the Executive Director of BJOC and is currently the head chef at Bais Medrash Govoha of Lakewood NJ. Their Shabbos table is the talk of town, as one after another, people have enjoyed the delicious food and their warmth. Their outgoing personalities have endeared them to the entire community.

They are blessed with five beautiful children, Leah, Chaim, Shmuli, Esther and Perel. Eli & Shevy bought a house in Bensalem and are looking forward to living there for many years to come!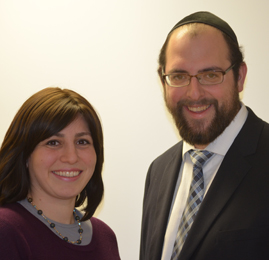 Rabbi Shabsi & Miriam
Sorscher
shabsi

215-758-1996
email
Shabsi was born and raised in Lakewood, NJ. He was one of the founding pupils of Yeshivas Orchos Chaim in Monsey, and then moved on to study in Mirrer Yeshiva in Brooklyn, NY.

Shabsi married Miriam (nee Zimmerman) from Seagate, NY. After living in Flatbush, NY for a few months they moved to Lakewood, NJ. Shabsi learned in BaisMedrashGovoha for three and a half years. In 2011 the Sorschers moved to Bensalem, with Shabsi joining the Kollel and Miriam serving as the Preschool teacher. They are very involved in the community - both with outreach as well as with other community concerns. Shabsi enjoys learning and teaching Torah. He is a licensed social worker and specializes in couples therapy, helping many with Shalom Bayis issues. Shabsi is currently learning in the Kollel and working as a therapist. His wife Miriam has proven herself to be an outstanding Preschool teacher who has won the love and admiration of her students, as well as of their parents.

They are blessed with seven lovely children, Chaya Faiga, Shayna Rochel, Nechama Leeba, Batsheva, Shlomo, Tziporah and Yisroel Meir.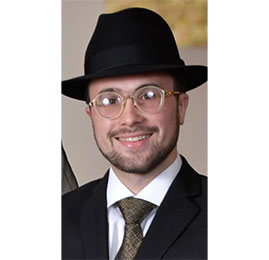 Rabbi Avromi & Adina
Braun
Avromi was born and raised in far Rockaway New York. He attended The Yeshiva of Far Rockaway for high school and Bais Medrash and then continued on to Yeshivas Kodshim in Yerushalayim.
In 2018, he married Adina (nee Shenker) from far Rockaway. They moved to Lakewood, New Jersey  where he continued learning in BMG and then joined kollel Halacha.
In the winter of 2021 Avromi and Adina moved to Bensalem to join the Kollel and make a difference in the lives of their fellow brothers and sisters. Avromi loves to create and give lectures on the parsha, Halacha, and the Jewish holidays, as well as designing and building creative furniture. Adina is a Speech Language Pathologist at Politz Hebrew Academy and enjoys raising their two adorable daughters Henny and Sori. Together they are heavily involved with community affairs and are a tremendous asset to the entire Bensalem community.
Rabbi Boruch & Malky
Sorscher
Boruch learned in Yeshiva Chemdas HaTorah in Lakewood, NJ. He then learned in Yeshivas Nesivos Aharon in Israel. After his marriage to Malky (nee Sendler) he continued learning in Nesivos Aharon.  After living in Israel for a few months they moved to Lakewood, NJ. Boruch learned in Bais Medrash Govoha for 2 years. Malky works in medical billing for a Lakewood company.

Boruch and Malky moved to Bensalem in 2020 where Boruch joined the Bensalem Kollel.  They appreciate the warm, friendly community and actively participate in many ways in all community events.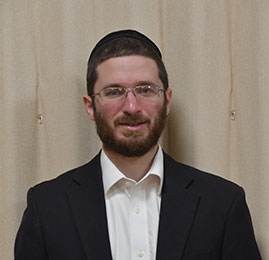 Rabbi Shimon & Rochel
Cahn
Shimon grew up as part of the Breuer's community in Washington Heights.  After finishing Mesivta, he continued on the Yeshiva Toras Chaim, afterwards attending Yagdil in Eretz Yisroel.
In 2018, Shimon married Rochel (nee Golden) from Providence.  Rochel works as an accountant in a Lakewood based nursing home management company.  They lived in Lakewood for the next three and a half years where Shimon learned in BMG. In spring of 2022, the Cahns moved to Bensalem together with their daughter Bracha Aidel to join the Kollel.  They are excited to be a part of, and to contribute to, the warm and vibrant Jewish community in Bensalem.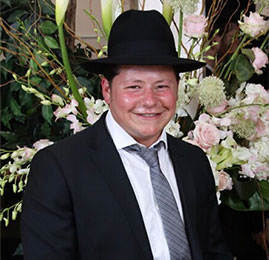 Rabbi Bentzy & Sara
Kranz
Bentzy Kranz grew up in Lakewood NJ. He went to Yeshiva Gedolah Merkaz Hatalmud under the leadership of Rabbi Yisroel Avrohom Frankel Shlita. From there he went to Eretz Yisroel and learned in Yeshivas Ner Moshe under the leadership of Reb Shalom Shechter, Shlita. He built a close relationship with R' Shalom and still keeps up with him. From there, he went to Beth Medrash Gavoha in Lakewood, NJ and learned there for two years. He then married Sarah Rothschild from Long Beach, NY. He learned in Lakewood for one more year and then moved to Bensalem with his wife . Sara works at a medical supplies company. Bentzy and Sara have two adorable children.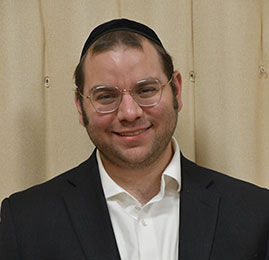 Rabbi Ahron & Sussie
Marks
Ahron Marks grew up in Baltimore, MD, attending Talmudical Academy of Baltimore (TA) and Yeshiva Gedola Shaarei Shmuel in Lakewood. After learning by R' Tzvi Kaplan in Eretz Yisroel, Ahron returned to Lakewood to continue his studies in YGSS.

In August of 2019, Ahron married Sussie (Pollack), who grew up in Chicago, attended Bais Yaakov and went to Tiferes Bnos Yaakov Seminary in Eretz Yisroel. Upon returning, Sussie got her BA in Judaic Studies, with minors in Math and Education, at Blitstein Institute. Ahron and Sussie spent their first two years of marriage in Lakewood. Ahron joined the Bensalem Kollel in May 2022 and Sussie is working as one of the babysitters in the community.

Ahron and Sussie have 2 children, a son, Eliyahu Shmuel and a baby daughter Shifra.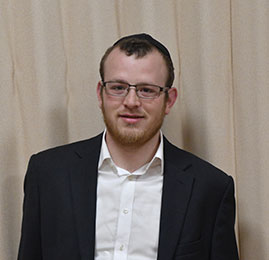 Rabbi Shragi & Elisheva
Small
Shragi was born and raised in Manhattan, NY. After attending Mesivta Tiferes Jerusalem and Yeshiva Gedolah Be'erHatorah, he continued on to Eretz Yisroel to learn in Yeshivas Kodshim.

He returned to the states and married Elisheva (nee Cohen) who grew up in Lakewood, NJ. They lived in Lakewood, NJ for two year with Shragi learning in BaisMedrashGovoha. Shragi and Elisheva moved to Bensalem, in April 2022. They have 2 beautiful children, Yechiel and Tzivia. Shragi is a proud member of the Bensalem Kollel and Elisheva works full time as a graphic designer and loves being a part of the Bensalem Community.The Smalls are driven to help Jews in any way that is needed and are very beloved by the community.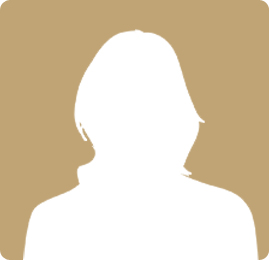 Mrs. Faigy
kahn
faigy

215-752-5032
email
Mrs. Faigy Kahn nee Goldman from Washington Heights is the efficient and organized secretary of BJOC. She is also the attendant of the Bucks County Mikvah and in that capacity she ensures that the mikvah maintains its high standard of beauty.