Events
Building Campaign
August 29, 19
register online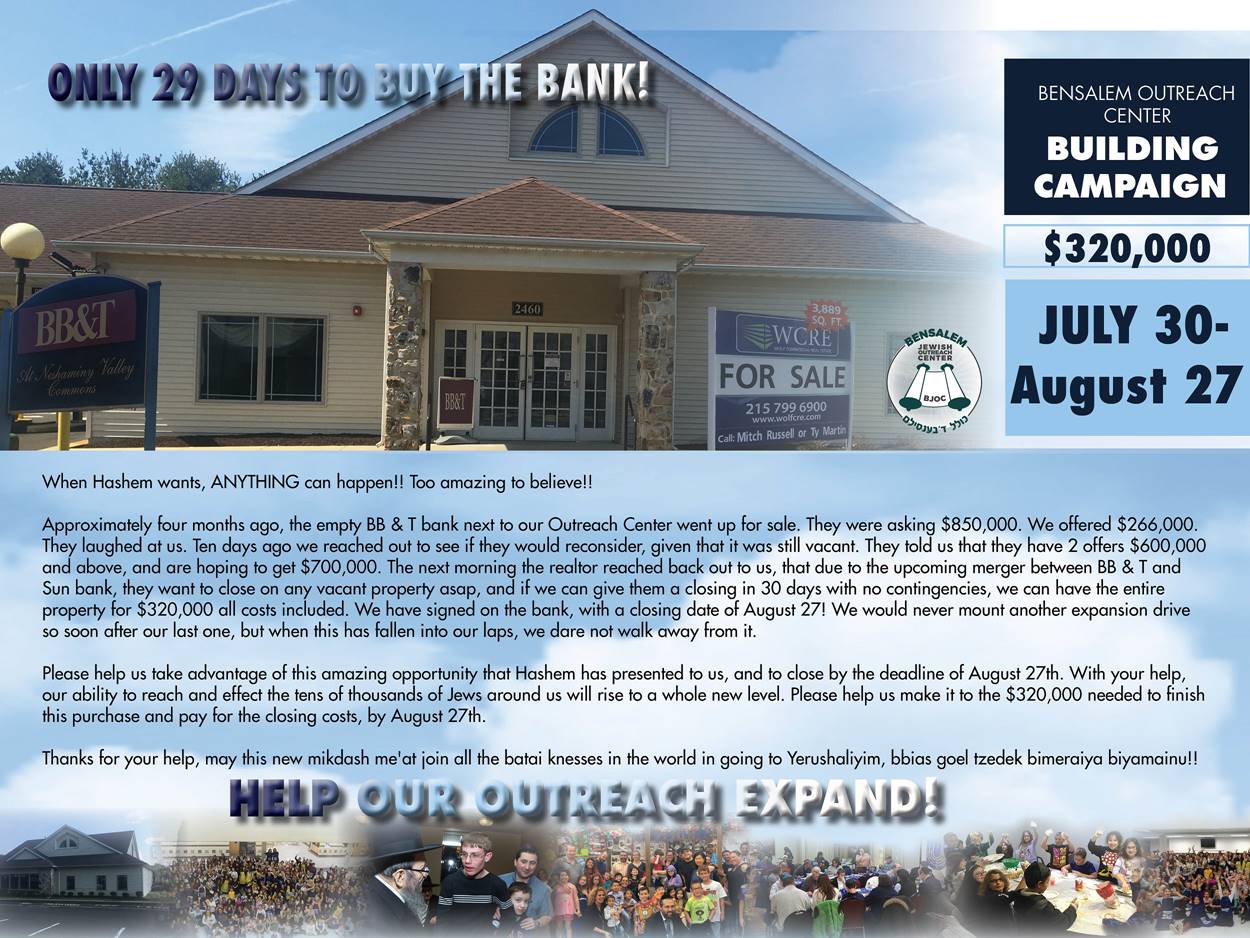 Pleas click the link above and help us meet our goal by the deadline!!!
When Hashem wants, ANYTHING can happen!! Too amazing to believe!!

Approximately four months ago, the empty BB & T bank next to our Outreach Center went up for sale. They were asking $850,000. We offered $266,000.
They laughed at us. Ten days ago we reached out to see if they would reconsider, given that it was still vacant. They told us that they have 2 offers $600,000 and above, and are hoping to get $700,000. The next morning the realtor reached back out to us, that due to the upcoming merger between BB & T and Sun bank, they want to close on any vacant property asap, and if we can give them a closing in 30 days with no contingencies, we can have the entire property for $320,000 all costs included. We have signed on the bank, with a closing date of August 27! We would never mount another expansion drive so soon after our last one, but when this has fallen into our laps, we dare not walk away from it.

Please help us take advantage of this amazing opportunity that Hashem has presented to us, and to close by the deadline of August 27th. With your help, our ability to reach and effect the tens of thousands of Jews around us will rise to a whole new level. Please help us make it to the $320,000 needed to finish this purchase and pay for the closing costs, by August 27th.

Thanks for your help, may this new mikdash me'at join all the batai knesses in the world in going to Yerushaliyim, bbias goel tzedek bimeraiya biyamainu!!
Back to previous page