bensalem eruv
According to Jewish Law, one is forbidden from carrying anything from his private domain to public property on Shabbos, as carrying is classified as one of the 39 acts of labor prohibited on Shabbos. For example, carrying tissues in one's pockets, pushing a baby stroller, or even carrying a house key (it is permissible if it is worn, for example, as a pin). To solve the difficulties this prohibition may present, our Sages instituted the concept of an Eruv, which is a specific area enclosed by natural and man made boundaries inside of which all carrying for use of an object of Shabbos is permitted.
Under the auspices of leading Rabbinic authorities, a kosher Eruv has been erected in Bensalem. The areas covered include the area south of Neshaminy Creek and north of the PA Turnpike, within Hulmeville Road to the east and running down River Road, Bristol Road, and then Galloway Road to the west.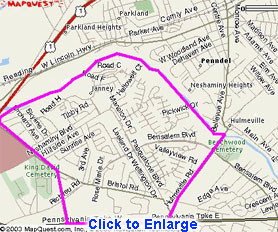 For more details, see the map.
Our Eruv is checked on a constant basis, to ensure that it is intact and usable. Please call 215-891-0730 each week for a recorded message notifying you of the Eruv's status for that Shabbos.